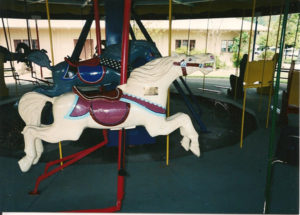 Nancy Bartley's Article in the Seattle Times 4/29/12 (He's a 'nobody' no longer) struck a chord. Though his commitment was in 1951, the same period when my parents were on the staff of the Sonoma State Home, so many of the details were familar.
Jerry Wooliver was a little boy in high-top baby shoes when he was taken from his mother and siblings and sent to a state institution. He never saw his family again, but for 61 years they lived on in hazy memories.
60 Minutes did a story in 2009 (A Dark Chapter in Medical History) about the commitment of Mark Dal Molin to the Sonoma State Hospital in 1961. So often these actions were taken for the best of intentions, but the toll on the families was harsh, and for some there was terrible guilt. Mr. Dal Molin felt his wife and daughters were being consumed by Mark's care, but they were shocked by his action. The family split as a result. One of the most poignant things I saw there was a small carousel another family donated to the institution, with a brass plaque on the neck of the white horse reserving it for their son.
Comments Off

on Family Reconnects After 61 Years
May 2, 2012