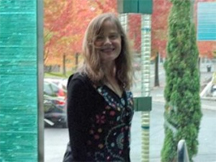 "Things are never what they seem,
find the lost inside the dream."
Janet Carey (In the Time of the Dragon Moon) has now posted on her Dreamwalks blog an interview I did preparatory to the Fourth Annual "Full Bodied Writjng" Summer Retreat. https://janetleecarey.com/dream-walks/unpacking-the-mind-of-peter-v-kahle/ I am presenting a workshop there, the last weekend in June. Full disclosure, I have known Janet for twenty five years, starting in the 1990's when we had board positions with the Pacific Northwest Writers Association , through shared critique groups, etc. I have otherwise hobnobbed and associated with her. I know her to be a writer thoughtful and brave, who works in many levels in her fiction. I appreciate the precision of her language. Her blog is well worth a read, a very thoughtful examination of writing and art with professionals talking about their process and intent.
Comments Off

on Posted on Dreamwalks
June 14, 2019